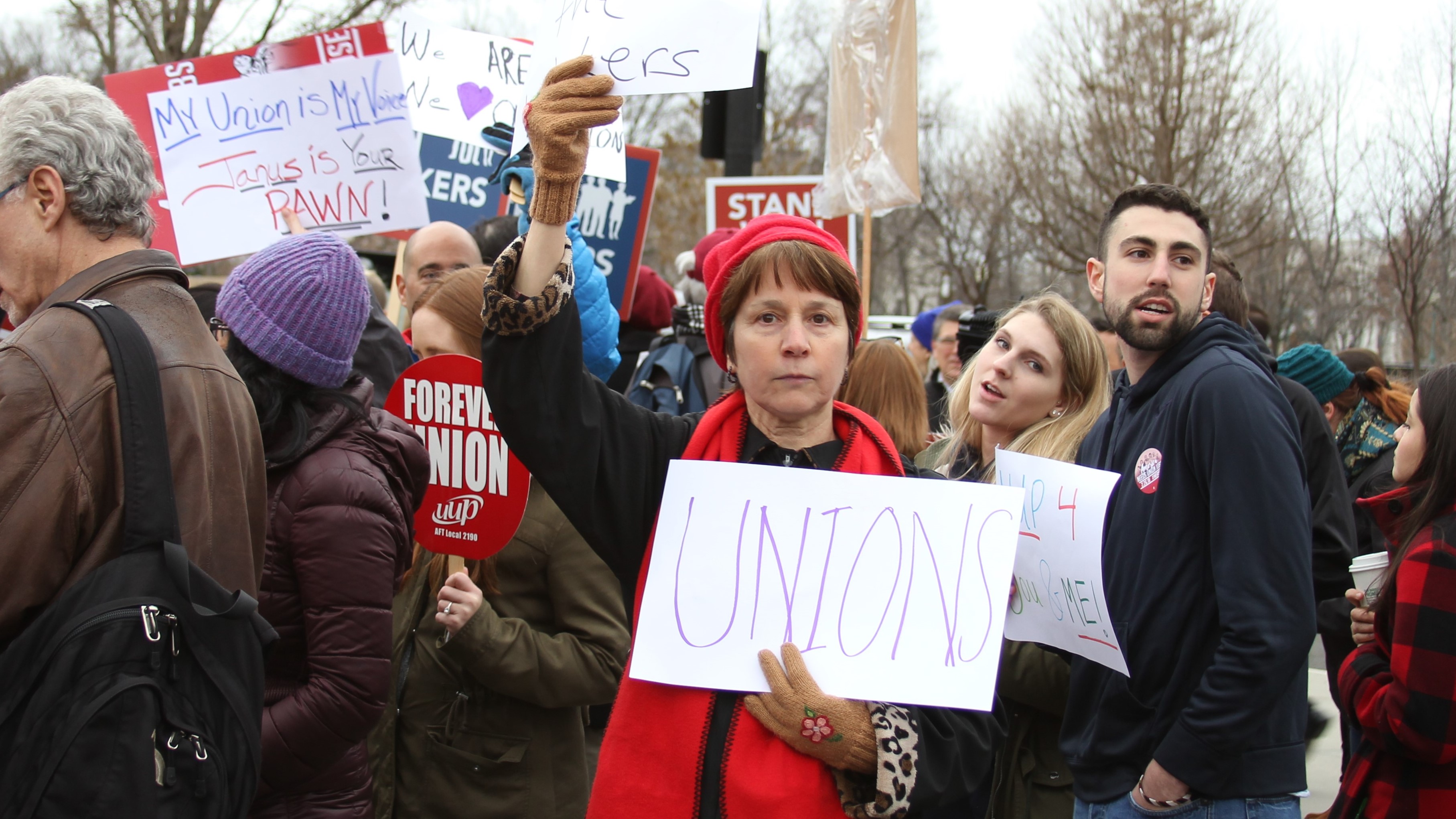 It was never a question of whether Jamie Dangler would eventually be honored as a NYSUT Higher Education Member of the Year; it was only a question of how much of her remarkable career could be recapped in a two-and-a-half-minute tribute video.
The answer, as more than 2,000 attendees at the virtual NYSUT Representative Assembly May 1 learned, was just enough to show why UUP leaders turned to Dangler time and again to tackle projects that were often daunting, always difficult, and sometimes seemingly intractable. And she came through for her union every time, not only with solutions, but often with real change that made life better for her UUP colleagues and for SUNY students.
Dangler, a sociologist at SUNY Cortland who has been a union activist for much of her 36-year career, has announced she will not run re-election when her term ends this summer. She capped her long service with a nearly decade-long tenure as statewide vice president for academics.
"Jamie is dedicated to unionism and to her union," UUP President Fred Kowal wrote in his nomination of Dangler for one of NYSUT's highest honors. "She cares about UUP's members and has never been afraid to speak out to defend them or in opposition to anything that would impact them negatively or weaken the union. She has spent a lifetime working for members of United University Professions."
As a sociologist and a unionist, Dangler had a particular passion for the challenges that families face as they balance work with home life, and she had a keen awareness of the special effort many women make to achieve that balance. She knew about that from personal experience, as she and her husband juggled their careers and raised two sons, and she recounted formative impressions from her childhood during her NYSUT interview.
"I think my interest in unions was influenced a lot by what I observed growing up," she said in the tribute video.
She referred to a childhood in a small town outside of Newburgh, N.Y., where her family owned a grocery store, and where she saw other working families striving to attain a good life for their children—an area that would later figure into her academic research as well as her work for UUP. She is the author of "Hidden in the Home: The Role of Waged Homework in the Modern World Economy," about piecework production done by workers in their homes, with a special focus on the electronics industry.
Her interest in work-life balance made her ideally suited for many of her roles at UUP, where she started the Family Leave Committee in 2001 and chaired it from its inception to 2010. She also compiled the Family Leave/Work Life Services Guide for UUP members. She continues to represent the union on the state's multi-union Labor/Management Work-Life Services Advisory Board.
In 2009, Dangler co-authored an extensive report for UUP on gender and salary inequity. The report, titled "Gender Inequity," studied potential salary inequities at Albany, Buffalo, Cobleskill, Cortland, Farmingdale, New Paltz and Plattsburgh, measuring years of service, rank, terminal degree and discipline-specific market salaries. It also includes information on focus groups, interviews and discussions about gender inequity with UUPers at 13 chapters.
Dangler also leads UUP's Task Force on Teacher Education, a committee that strongly—and successfully—advocated against new State Education Department mandates for teacher certification that were put in place in 2014.
Working with NYSUT, UUP members, the Professional Staff Congress/CUNY and state Board of Regents members, Dangler led a three-year fight against a certification process that was unfair, flawed, and which discouraged students considering a teaching career from entering the profession. That led to a March 2017 decision by the Regents to make significant changes to the process, including eliminating one of four exams, and instituting a review process to help teaching students complete the edTPA requirement.
Reflecting on that and other long efforts, Dangler said in her video, "One of the things I've learned in the union is you have to keep your eyes on the prize, and it might take a long time to get close, but every step you take is a step forward."
Known for her calm, steady demeanor in potentially fractious discussions, Dangler was the chief negotiator for UUP's 2011-2016 contract with New York State, and served on the Negotiations Team during bargaining talks that produced the 2007-2011 contract. She also served as UUP's chief negotiator during its contract negotiations with the union's CWA staff in 2009. But she was also one of UUP's most enthusiastic and vocal advocates in the many demonstrations she either led or participated in over the years, including a day-long protest in front of the U.S. Supreme Court Building [above] in February 2018 as justices heard oral arguments in the landmark anti-union case, Janus v. AFSCME Council 31.
Never one to highlight her own achievements, and always quick to credit others for their efforts, Dangler grew visibly emotional and fought back tears as she reflected on her long career with UUP during her NYSUT interview.
"I can't envision my life without being part of the union," she said. "It's been such a wonderful experience."