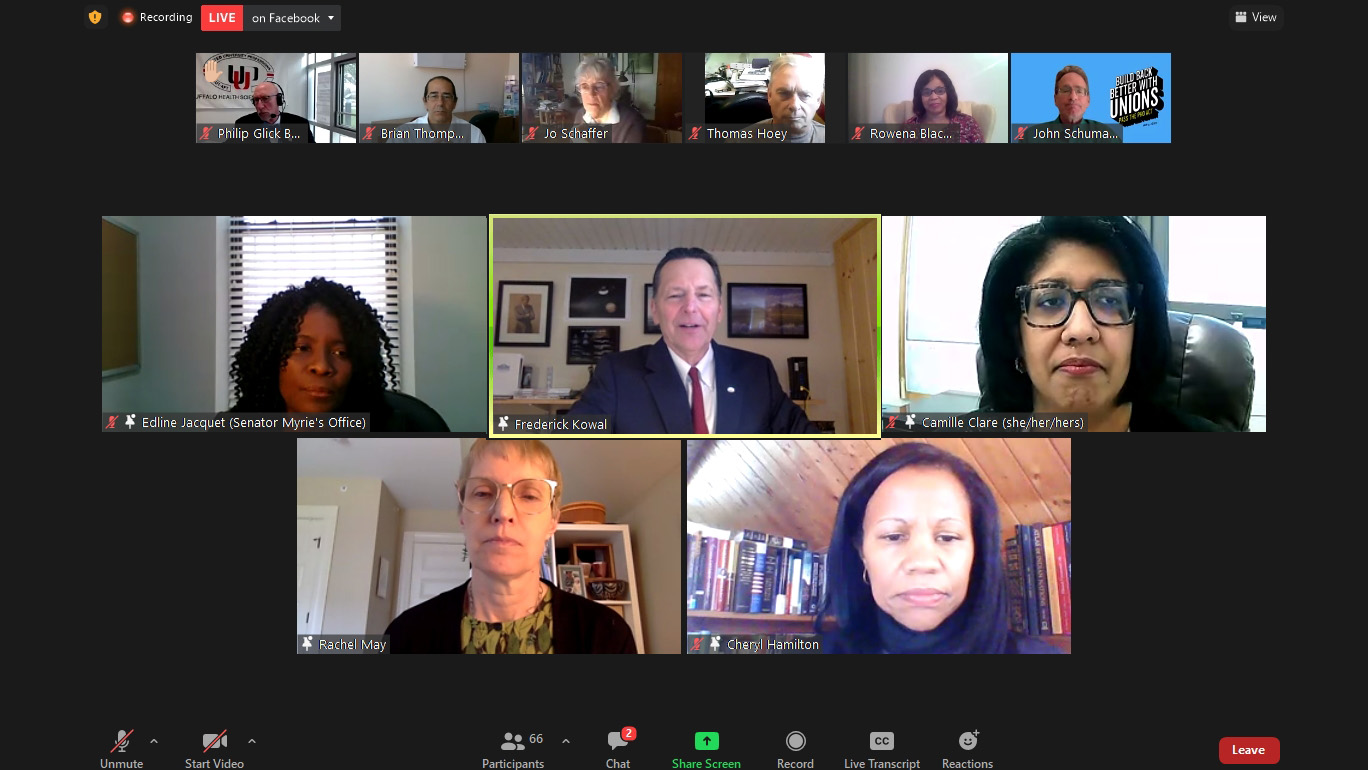 There has never been a better time for SUNY hospitals to take a lead in addressing some of the state's major health challenges, including access to primary care, a reduction in maternal-infant mortality, and outreach to the state's rural residents.
A team of experts in health care and public policy made that point May 6 at a UUP roundtable discussion on access to health care and health professions at SUNY, held on National Nurses Day. Key areas of discussion included the state's high maternal mortality rate of 19.2 deaths for every 100,000 births; getting health care to the state's rural residents, including Native Americans; and increasing the number of students from underserved communities entering medical professions.
UUP President Fred Kowal moderated. The panel included state Sen. Rachel May, a member of the Senate Health Committee; Dr. Camille Clare, chair of the obstetrics and gynecology department at SUNY Downstate Health Sciences University, and an expert in women's health; Cheryl Hamilton, SUNY executive director of opportunity programs; and Edline Jacquet, chief of staff for Sen. Zellnor Myrie.
NY HEALS: A PLAN FOR CHANGE
Kowal opened the hour-long session by describing UUP's legislative agenda, New York HEALS (Health care, Education, Access, Leadership, Sustainability), which the union will continue to advocate for beyond the end of the Legislative session in June. The agenda addresses problems that have not received adequate attention in years, including access to primary care in rural and urban areas, better care for high-risk pregnant women and a more inclusive and diverse medical profession.
"This proposal is intended to make the State University of New York a lead institution for our state and our nation," Kowal said. "It is clear that a health care system has to be created to address these and other challenges." /p>
Already, SUNY has worked with UUP to develop a proposal from NY HEALS that calls for an increase in the number of students from underserved communities studying to enter the health care professions. The Empire Medical Scholars Program, a pilot program for 25 students at Upstate Medical University in Syracuse, begins this summer, Hamilton said.
SUNY HOSPITALS HANDLED DEVASTATING YEAR
Kowal credited SUNY hospitals with preventing the pandemic from being even worse than it was in New York, where more than 52,000 people have died from the disease so far. Despite an all-out response by the hospitals, and despite the fact that SUNY hospital staff sickened and died from COVID-19, the state did not provide any funding to the hospitals in the final enacted budget, and has not provided hazard pay to the staff.
"Make no mistake about it: Our health care system was not ready for this pandemic, and it failed our communities," Kowal said. UUP has blamed the state for years of neglect of its hospitals.
DOWNSTATE RESPONDS TO MATERNAL MORTALITY
A dominant theme in the roundtable: New York's shockingly high number of women who die after childbirth. With 19.2 maternal deaths for every 100,000 live births, New York ranked 22nd out of 47 states whose maternal mortality data was available for a 2000 examination of this problem by the private population data resource, World Population Review. That places New York below West Virginia, Alaska and Maine.
Jacquet described the New York City numbers as a crisis, and May noted that care for pregnant women in rural areas can also be extremely difficult to access because of a lack of transportation and an inadequate number of hospitals. Clare said that Downstate is making maternal health a priority.
"We have a huge role to play here in Central Brooklyn," said Clare, who serves on maternal mortality review boards for the state and for New York City. "Here at SUNY Downstate, we're committed to improving the care of our patients who are local to the community."
Downstate has been designated by the New York State Department of Health as the Regional Perinatal Center for North/North Central Brooklyn, and Downstate is also the first hospital in Brooklyn that adopted the statewide Perinatal Data System. This system provides public health and health care professionals around the state with timely and accurate data about birth outcomes.
PANEL: MEDICAL PROFESSION SHOULD LOOK MORE LIKE ITS PATIENTS
What can help improve access for high-needs populations throughout the state? Panelists had several thoughts, but they all came back to one point: When patients can be treated by medical professionals who understand them, understand their culture and understand their special needs and risks, they have better outcomes.
UUP is trying to help SUNY achieve that more diverse medical profession. The timing couldn't be better, with a new federal focus on maternal health and new federal money flowing into hospitals and rural health care services to help with pandemic costs. As Kowal noted, discussions like the roundtable are part of achieving needed improvements.
"In order to make the changes necessary in the way that health care is imagined and delivered, the first step is to share knowledge and expertise, to make coalitions that work together," he said.