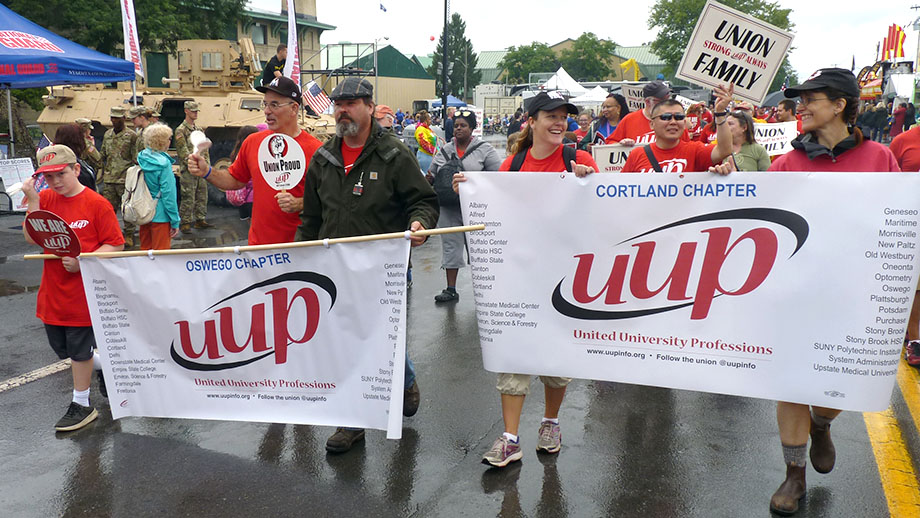 At least three union-sponsored Labor Day events are slated across the state on Labor Day, Monday, Sept. 6.
You can sign up to take part in any of the events below by clicking HERE. UUP encourages members to wear face masks at the events.
The parade and rally at the New York State Fairgrounds in Syracuse has been cancelled. Please keep checking the UUP website for updates on the other parades and events.
BUFFALO LABOR DAY PARADE AND PICNIC
The parade will assemble at 11 a.m. at the intersection of Dorrance Circle and McKinley Parkway in Lackawanna. The parade starts at noon; it will proceed down McKinley Parkway to Red Jacket Parkway, ending at Cazenovia Park, located outside the Peter Crotty Casino.
The Labor Day picnic will begin at 1 p.m. Contact the Buffalo AFL-CIO Central Labor Council at 716-852-0375 for more information.
CAPITAL DISTRICT BBQ PICNIC AND CELEBRATION
The picnic starts at 4 p.m. at Cook Park in Colonie, Albany County. Face masks are required in the picnic pavilion. The event is sponsored by the Solidarity Committee of the Capital District and co-sponsored by the Albany Social Justice Center, the Capital District Area Labor Federation and the New York State Nurses Association.
Contact Doug Bullock at dbull4@verizon.net for more information.
NORTH COUNTRY LABOR DAY PARADE
The parade will assemble on Willow Street in Massena, by Coach's Corner restaurant. The parade starts at 10 a.m. Face masks are required.
Contact Ron McDougall, president of the Jefferson, Lewis and St. Lawrence Counties Central Trades and Labor Council for more information.