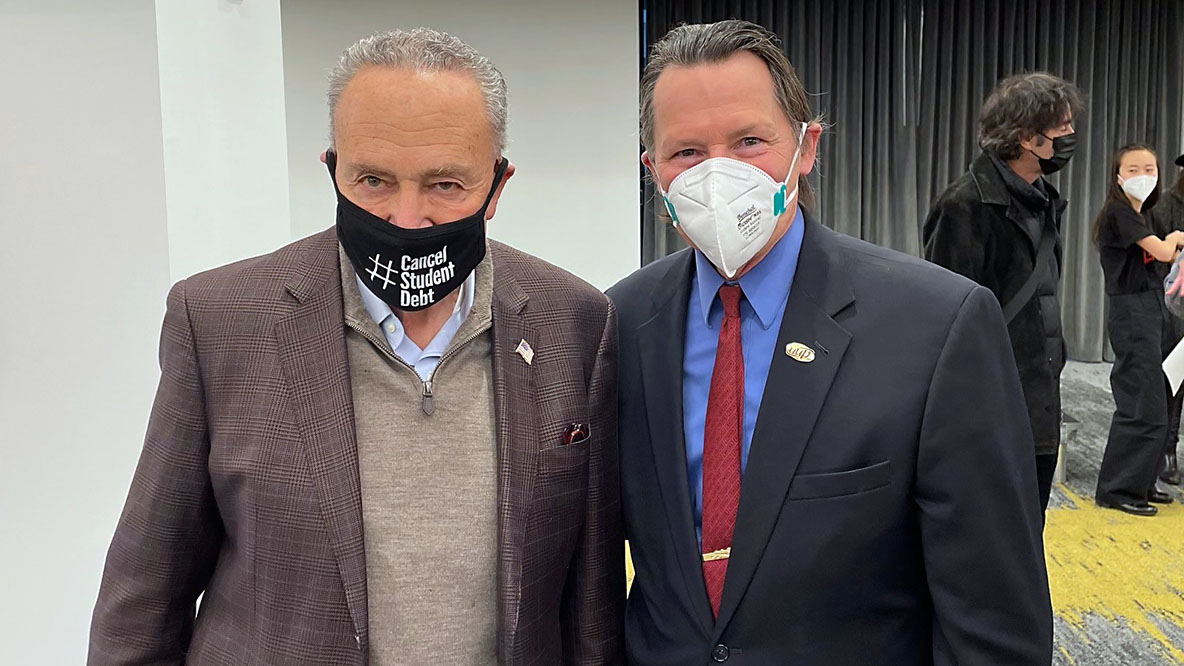 UUP President Fred Kowal joined Senate Majority Leader Chuck Schumer and representatives from a coalition of community and labor leaders to call for debt relief for student borrowers at a Feb. 11 press conference in New York City.
At the event, Schumer said the time is now to cancel up to $50,000 in federal student debt per student, with student debt payments set to resume May 1. That would be a big help to many New Yorkers carrying student loans; 2.4 million people in New York owe nearly $90 billion in student debt.
"For someone who owes tens of thousands of dollars in federal student debt, canceling as much as $50,000 of that could be life-changing," said Kowal, above right, who posed for a photo with Schumer, left, after the event. "UUP strongly supports the Senate majority leader in his push for the Biden administration to cancel student loan debt."
UUP, through its student debt clinics, has helped dozens of UUP members get more than $600,000 in student debt forgiven through the federal Public Service Loan Forgiveness Program. UUP student debt clinics are set for March 2, March 16 and March 30. Click HERE to register.
Also attending the event at the 1199SEIU offices on Seventh Avenue were U.S. Rep. Jamaal Bowman (D-Yonkers); local elected officials; and leaders from the NAACP; Debt Collective; NYPIRG, Student Debt Crisis; PSC/CUNY; and the New York Taxi Workers Alliance.
Schumer has called for widespread student loan debt forgiveness since 2020. In late January, he, along with 84 Congress members, sent a letter to Biden asking him to cancel student debt and release a 2021 legal memo Biden's administration prepared about whether the president has the power to cancel the debt.