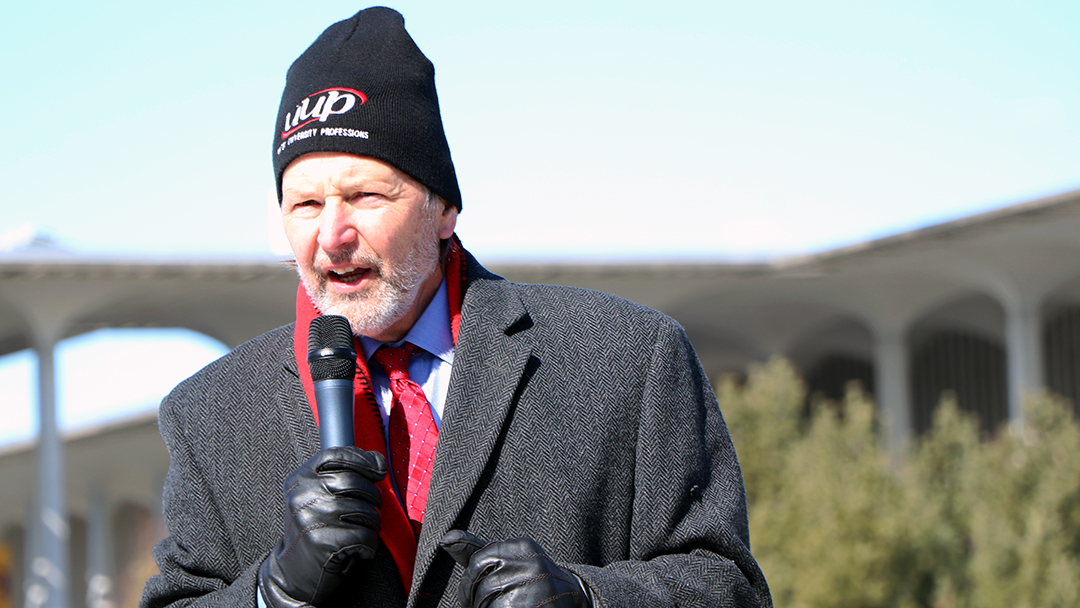 UUP's impressive Week of Action continued its sweep through the state March 3 with a rousing rally of nearly 200 members and students in Albany on the University at Albany campus.
The UUP Negotiations Team was also meeting March 3 in Albany, and several members of the Team attended the rally. Kowal acknowledged their presence by reminding the students at the rally that the negotiations process aims to achieve goals that go beyond the essential achievement of a fair contract and good working conditions.
By fighting for those basic rights, Kowal said, "We are serving New York, we are serving our students. This is about your future. So even when we are fighting for a contract, it's about you."
He went on to explain that while Gov. Kathy Hochul's first Executive Budget proposal is much fairer to public higher education than any other executive proposal in recent memory, its funding to SUNY does not take into account the state's unexpectedly strong economy. UUP seeks an additional $250 million for SUNY, with $150 million of that to go to the three SUNY teaching hospitals, which again did not get any state funding.
"This is not a public university; it's been a private system with a little bit of public money, and that's not right," Kowal told the crowd just before he led them in a chant to "Fund SUNY now!"
Also at the rally: UUP statewide Vice President for Professionals Carolyn Kube and statewide Membership Development Officer Tom Hoey.
Speakers included Aaron Major, the Albany Chapter president; Assemblymember Kenny Burgos of the 85th District in the Bronx; Albany Common Council member Owusu Anane, an alumnus of UAlbany's Educational Opportunity Program; and students Ivan Daquial president of both the UAlbany Pride Alliance and the campus chapter of Minorities and Philosophy; and Kayla Cooper, appropriations chair of the UAlbany Student Association.
The UAlbany rally fell halfway through UUP's Week of Action, a statewide effort to call attention to the need for more funding for SUNY. UUP chapters around the state are holding events on their campuses, and Kowal and several statewide officers have been joined by lawmakers and other advocates of public education in rallies at Buffalo State and Binghamton University.
Kowal was scheduled to attend a rally at SUNY Plattsburgh March 4. And he will be a leader in a major event in New York City March 6, when hundreds of UUP members are expected to join a massive march across the Brooklyn Bridge, with a rally at each end, to call for greater funding for SUNY and the City University of New York.
FOLLOW US ON SOCIAL MEDIA!