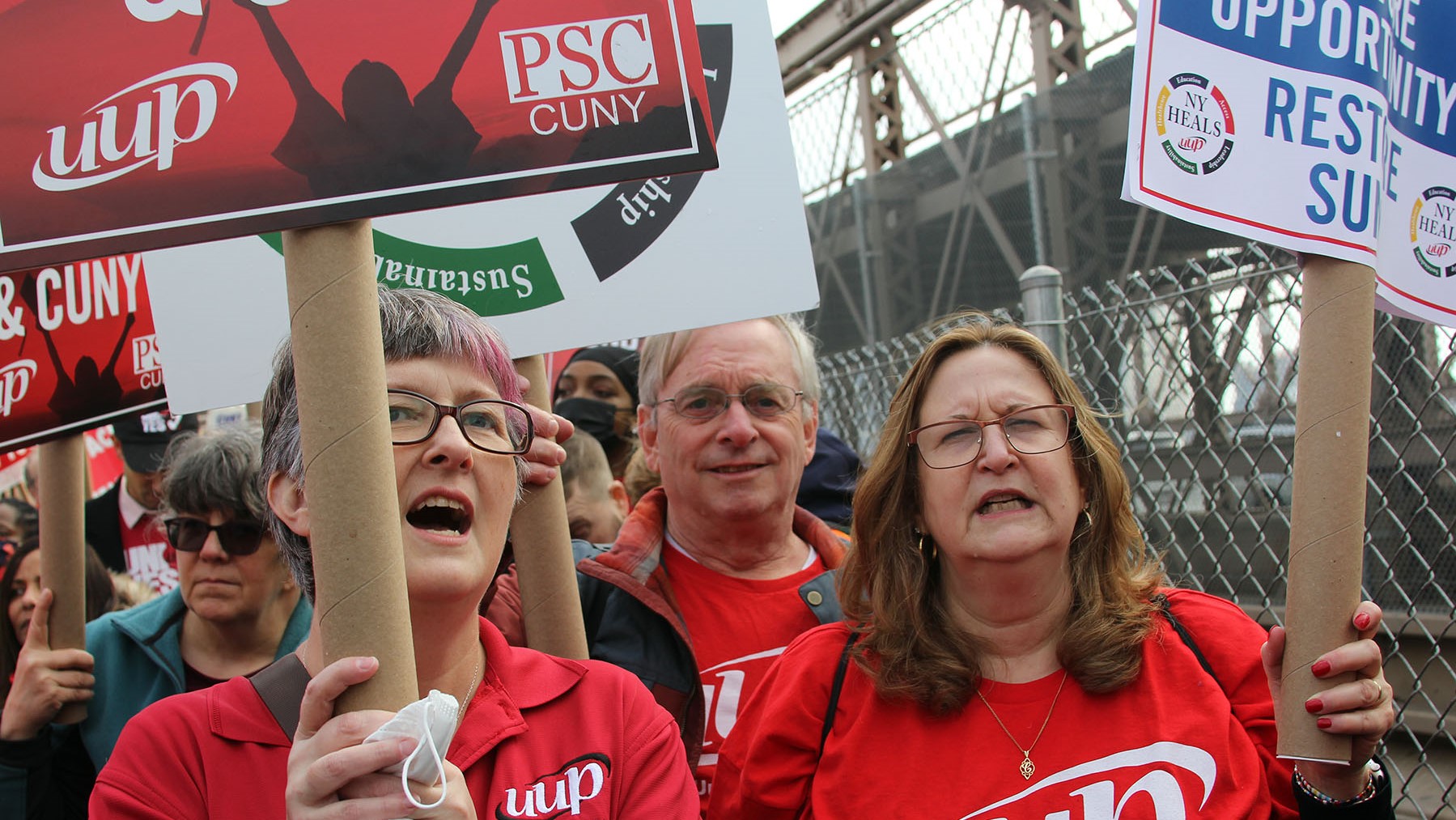 UUP members from all over the state joined more than 1,000 fellow unionists and students March 6 for dual New York City rallies and an attention-grabbing march that closed half the Brooklyn Bridge in show of solidarity for public higher education.
"This is the 11th hour," UUP President Fred Kowal said, reflecting on the extensive news coverage of the Week of Action as he prepared for the start of the Brooklyn rally in front of historic Borough Hall. "Big numbers, big news, big success."
Minutes later, he was on stage for the kick-off rally, projecting his voice over the cheers, drum rolls and chants.
"How are you doing out there?" Kowal shouted to the crowd, which rippled with energy and enthusiasm. "We are at the center of the universe in Brooklyn!"
Kowal went on to explain that if SUNY's 2007 level of funding been maintained, instead of being steadily eroded or flatlined, the university system would have had $7 billion more to spend in that time on new faculty, student services and academic programs.
"When James and I are going to Albany, what we're asking for is a half-billion dollars," Kowal said, referring to Professional Staff Congress/CUNY President James Davis. "That's not a hell of a lot; that's a down payment."
GREAT RISK; NO STATE MONEY
The SUNY hospitals, as he noted, haven't gotten state support in years, even as their staff performed at terrible and sometimes fatal risk during the coronavirus pandemic—a point made again by UUP Downstate Medical Center Chapter member Redetha Abrahams-Nichols, who followed Kowal as a speaker at the Brooklyn Rally.
"Some of our members caught COVID-19," Abrahams-Nichols said. "Some of them recovered; some of them did not. I hope our political leaders have not forgotten what we have been through."
And then the rally crowd, at least 1,000 people strong, streamed onto the Brooklyn Bridge in the show-stopping highlight of the day: a march into Manhattan with the UUP-PSC banner front and center. The New York City Police Department closed the Manhattan-bound road for the marchers, who stretched for hundreds of feet along the 1.1-mile-long bridge. Pedestrians lined the adjacent walkway to take in the colorful scene, dominated by the bright red signs, T-shirts and banners of the two unions. Onlookers cheered, called out encouragement or shouted their own union affiliations.
END-TO-END RALLIES IN BROOKLYN, MANHATTAN
A second rally in Manhattan's Foley Square topped off the march, which ended with many participants breaking into impromptu and exuberant dances to the warm-up music from the podium speakers.
The four other UUP statewide officers—Carolyn Kube, Alissa Karl, Jeri O'Bryan-Losee and Tom Hoey—joined the rallies and the march, as did UUP Executive Board members, chapter leaders and retirees from all over the state. In addition to Kowal, statewide Vice President for Academics Karl and statewide Executive Board Member Samuel Marquez of the UUP Downstate Medical Center Chapter spoke at the second rally.
A GREAT WEEK, FILLED WITH ACTION
The day capped UUP's Week of Action, in which UUP chapters throughout the state held rallies and other events to press for $250 million in additional state funds for SUNY in the final enacted state budget. The PSC has worked in conjunction with UUP in its own quest for an additional $250 million, and the PSC was UUP's partner in New York City for the march.
Other statewide officers and chapter leaders often joined Kowal in a whirlwind tour of SUNY state-operated campuses during the Week of Action's news conferences and rallies.
Kowal visited SUNY Buffalo State, Binghamton University, the University at Albany and SUNY Plattsburgh before winding up the effort in Brooklyn and Manhattan for the March 6 event. In Brooklyn, Kowal noted that the exciting, high-energy week drew hundreds of UUP members into advocating for a state budget that will go even farther than the Executive Budget proposal to address years of underfunding for SUNY.
"This is an unjust situation that has to end, and it will end this year," Kowal told the crowd at Borough Hall.