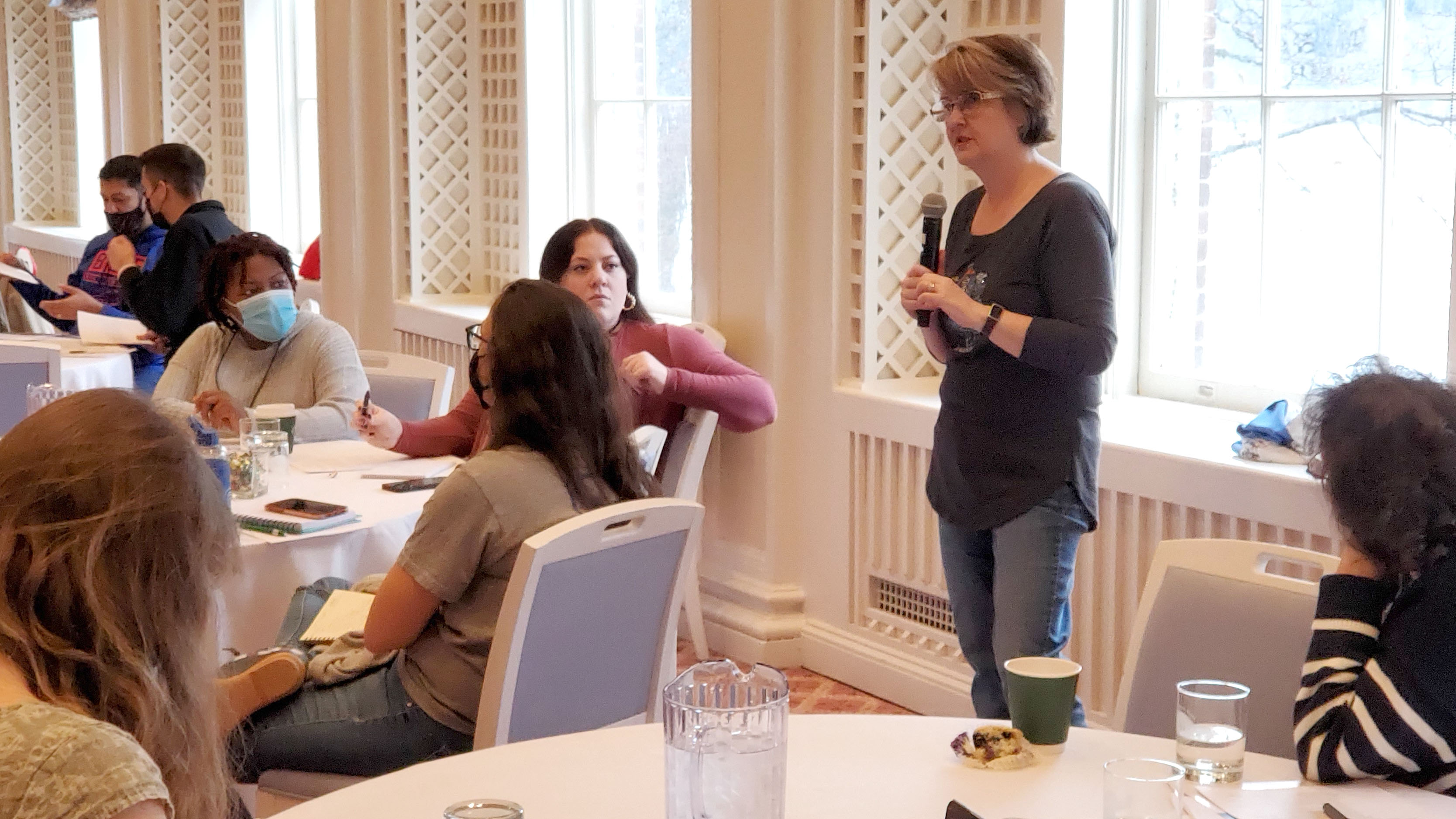 Strong leadership with a solid, unified plan to build membership and political clout is paramount for a union like United University Professions.
That's why more than 60 UUP members gathered in Cooperstown Jan. 13-15 for the union's Leadership Training Conference. They learned about how UUP works, ways to attract more SUNY employees to join the union and the many leadership opportunities available to members ready to become more involved.
Veteran chapter leaders mixed with younger members—some of them taking their first steps toward leadership positions within the union—during four workshop sessions, led by UUP's statewide officers and facilitated by the union's Organizing and Legislative & Political departments.
UUP President Fred Kowal opened the conference Jan. 13 with a 90-minute discussion about the difficulties UUP faces when advocating for more state funding for SUNY. Those tasks aren't as daunting as they used to be. UUP has become a political force in state politics; Gov. Hochul and a majority of state legislators know UUP and what the union stands for.
UUP's new Higher Education Action Fund, which uses donations to NYSUT's VOTE-COPE fund to help elect pro-SUNY state legislators, has also helped increase UUP's political clout.
"We are respected," Kowal said. "What we're about is trying to improve SUNY and the world-class education our system offers. We're arguing for the public good."
Saturday's workshop sessions opened with "Workshopping Organizing Issues: Growing Our Union," led by statewide Vice President for Academics Alissa Karl and Kristie Sammons, UUP's executive director and director of Organizing & Outreach.
Participants broke up into groups, led by UUP Organizing Department staff, to discuss and brainstorm answers to challenges each chapter faces in signing up new members.
They broke up into groups again for an afternoon workshop on new employee orientation presentations, led by statewide Vice President for Professionals Carolyn Kube and Jeremy Ginsburg, NYSUT staff director for UUP.
Statewide Secretary-Treasurer Jeri O'Bryan-Losee closed the conference with a Jan. 15 session, "Activating Members to Build the Bench." The workshop focused on UUP's chapter elections process and opportunities available to members who want to become more involved in chapter leadership.