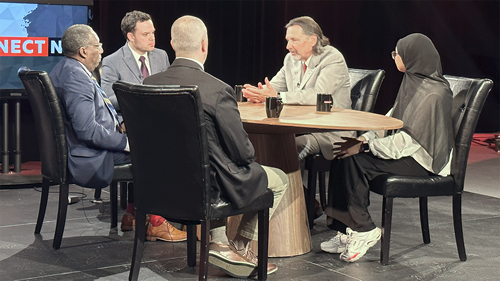 UUP President Fred Kowal talks about the accessibility, affordability and cost of a college education and the necessity for state to fully fund SUNY and its public teaching hospitals as part of a panel discussion on "ConnectNY," a monthly public affairs program produced by Syracuse NPR station WCNY-TV.
Click HERE to watch "ConnectNY" now or anytime you wish. It is free to view on the WCNY website, at http://www.wcny.org/connect_ny/.
The program was taped in Syracuse July 21 and aired July 31 on WCNY and PBS stations in Oswego, Cortland, Delhi and Oneonta and other locations in Central New York and the Southern Tier.
Joining Kowal on the panel were Syracuse University Masters' student Shukri Mohamed; Mohawk Valley Community College Trustee David Mathis; and Christopher Perrello, an assistant teaching professor at Syracuse University.
ConnectNY is hosted by David Lombardo, who hosts "Capitol Pressroom," WCNY's daily statewide public affairs radio program.
ACCESSIBILITY AND AFFORDABILITY
During the program, Kowal talked about the importance of accessibility at SUNY and the life-changing opportunities and options it provides to students.
"What's most important is that it gives opportunities to those who come from different areas, who come from different backgrounds, who come from different socioeconomic levels," Kowal said. "And I think that's crucial as well, granting an opportunity to those who may not otherwise attend college or even think about it as an option.
"And that's where I think the public investment in the system becomes even more vital," he continued. "This is a public good. Yes, it helps people move into the middle class, but it gives an individual the opportunity to expand their horizons and become a well-rounded citizen."
INVEST IN SUNY
Kowal focused on the underfunding of SUNY by the state—especially during the tenure of former Gov. Andrew Cuomo—and talked about how campuses and students are still impacted by more than a decade of budget cuts and flat budgets. State funding for SUNY has increased under Gov. Kathy Hochul, but legislators must make a strong, lasting investment in SUNY.
"I think it's crucial for us to realize that as long as the burden is placed on students to pay for their education, you are going to create a situation where they have very difficult choices to make," said Kowal. "We need to invest in our future, which is our students.
And in doing so, we're going to give everyone the great opportunities they can get at SUNY schools. But unfortunately, some of that has been curtailed because of the lack of public commitment. Things have changed over the past couple of years under Gov. Hochul, but we need to make that commitment."