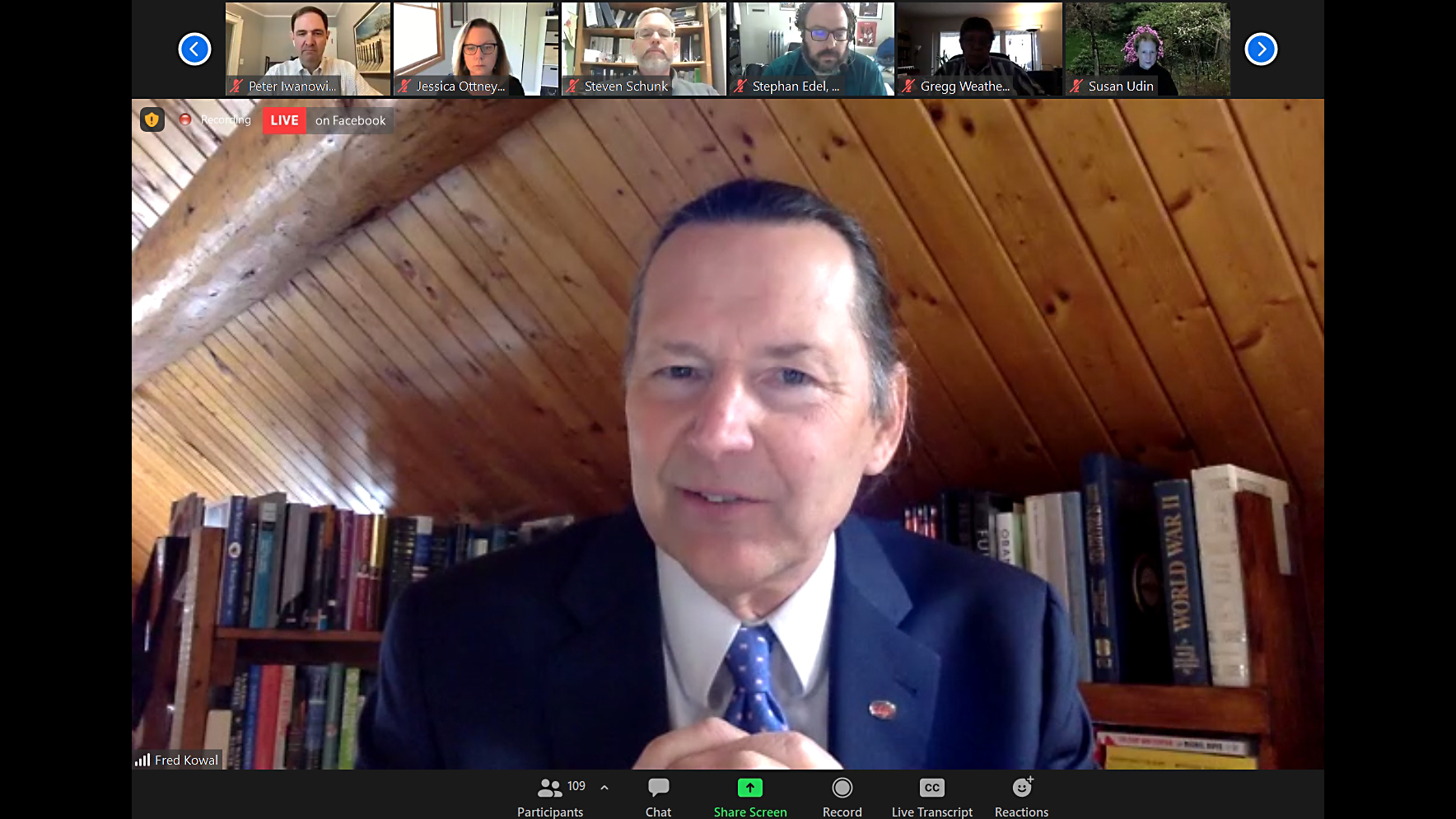 The State University of New York could be a key player in the fight against climate change—and UUP stands ready with its partners in environmental advocacy to help SUNY achieve that goal.
UUP President Fred Kowal and six experts in renewable energy and sustainability made that point during a virtual roundtable hosted by UUP April 22, the 51st celebration of Earth Day. The roundtable, which drew an audience of more than 200 viewers, came on the same day that President Biden announced at a virtual international climate change summit that the U.S. will cut its carbon emissions at least in half from 2005 levels by 2030.
"I can't think of a better way to spend Earth Day than by talking about ways we as a union, we as a university system, can reduce our carbon emissions and help reduce climate change," Kowal, the moderator, said in his opening remarks as he referenced the president's announcement. "UUP must have a leading role in this. We are educators and we are healers. All the work we do is all keyed to the future, and the future must be environmentally just."
Panelists included State Assembly member and longtime UUP member Steve Englebright, a Long Island Democrat and chair of the Assembly Committee on Environmental Conservation; Jessica Ottney Mahar, New York policy and strategy director for The Nature Conservancy; Dennis Elsenbeck, president of Viridi Parente and a New York State Climate Action Council member; Stephan Edel, coalition coordinator for New York Renews; UUP member Susan Fassler, sustainable facilities manager at SUNY ESF; and Peter Iwanowicz, executive director of Environmental Advocates of New York and also a member of the state Climate Action Council.
MUCH BEING DONE; MORE TO DO
The discussion ranged from efforts already underway—SUNY ESF, for example, aims to recycle, reuse or compost most of the trash produced on campus by 2025—to better ways to work with communities toward just transition. That's important not only in urban areas, but in the rural communities where many SUNY campuses are based, panelists noted.
At the heart of the just transition philosophy is the recognition that many jobs that harm the environment are also major sources of employment in areas with few opportunities for low-income residents. The challenge is to replace those harmful jobs with employment in green technology and sustainable fields.
As one of the largest property managers in the state—SUNY owns roughly 40% of the buildings in New York—UUP has long proposed that SUNY should make a concerted effort to develop greater sustainability and reduce its carbon footprint. UUP sees that goal as part of an overall effort that should also include starting new certificate and degree programs in green energy fields.
TIME IS RIGHT
And several developments make this a good time to raise these points: SUNY Chancellor Jim Malatras, who has a good cooperative relationship with UUP, is a member of the state Climate Action Council. Two days ago, Englebright announced that the Assembly had just passed a package of legislation aimed at reducing waste, emissions and contaminants. The Assembly will also hold a hearing May 13 on the implementation of the Climate and Community Protection Act, which UUP backs.
And UUP has two policy proposals that call on SUNY to work with the union toward the goal of greater sustainability: the UUP legislative agenda, NY HEALS, and UUP's NY25 proposal, which also includes an environmental component.
UUP and SUNY face many challenges in this area, but they are not unattainable ones, panelist Stephan Edel of NY Renews told the audience.
"SUNY is a huge player," Edel said. "Faculty members, students and staff can play a part as advocates. We know this is a huge, challenging task, that SUNY is almost uniquely prepared to deliver."