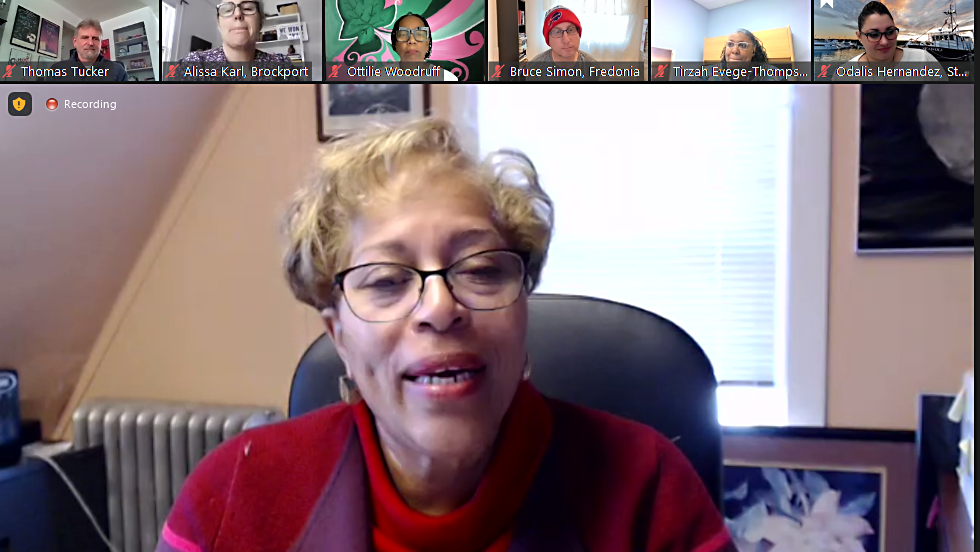 UUP and other unions have a special calling to act on racial injustice in all aspects of American life, speakers in the opening event of UUP's celebration of Black History Month said in a Feb. 9 discussion that reached a wide audience of UUP members.
It is a calling to which UUP gladly responds, said UUP President Fred Kowal, noting that the labor movement in its earliest years in this country was unapologetically racist.
"This is a unique union in terms of our ability to bring in new, energetic members," Kowal told the audience of more than 100. "I think it is absolutely necessary that this union, and all unions, stand for a future that is just and equitable for all."
Darleyne Mayers of SUNY Farmingdale, a statewide UUP Executive Board member, led the virtual discussion, which focused on the role of unions in racial justice, and how that focus can apply to UUP as it pertains to its relationship with SUNY.
Mayers and Albany Chapter member Patrick Romain, who also serves on the Executive Board, co-chair the statewide UUP Diversity, Equity and Inclusion Committee. Romain was a panelist, along with the Rev. Terrence Melvin, secretary-treasurer of the New York State AFL-CIO; and UUP member Anthony Dandridge, visiting lecturer of Black Studies at SUNY New Paltz.
HISTORIC STRUGGLES SEEN THROUGH A NEW LENS
Melvin delivered a riveting and impassioned summary of the long struggle for racial justice by Black workers in the United States, a struggle which the Rev. Martin Luther King embraced. Melvin called on UUP members to "stand on the shoulders of giants" who fought and died in past generations for racial justice, and he noted that "the anti-labor movement is also a racist movement."
"The struggle is not over, my people; the fight is not done," Melvin said. "Black Lives Matter is far from finished as a movement. The videos [of police brutality against Black Americans] have not stopped. There is nothing more fundamental for democracy than the right to vote."
Dandridge also invoked King, when he opened his remarks by quoting King's statement that people will not remember the words of their enemies as much as they will remember the silence of their friends.
UUP has called on SUNY to increase the diversity of the faculty, staff and student body, and to make it easier for underserved students to attend SUNY. The union has seen some progress, through a SUNY program committed to diversifying the faculty through new hires, and through the state's recent steps to eliminate the TAP Gap and to expand the Educational Opportunity Program.
Dandridge issued a challenge to UUP to do more, to dig deeper, by examining areas of higher education not commonly discussed as sources of racism, including campus codes of conduct for students.
"Our students are struggling, our faculty are struggling, and the nation is struggling," Dandridge said. "We feel as though unions can help out by making membership more diverse."
GIVING OTHERS A LIFE-CHANGING EXPERIENCE
Romain is both a graduate of EOP and a senior academic advisor and counselor in the UAlbany EOP.
"EOP changed my life," he said. "When I go to work, that is my commitment every day: to change the lives of my students. We need to continue to fight for diversity. Our kids need SUNY; they need us to fight for them.
"Diversity is not a one-day topic," Romain said. "It's a topic we need to fight for every day."
Kowal had greeted panelists and the audience from the SUNY Downstate Health Sciences University, where he was visiting for the day on union business. Few places in the SUNY system better illustrate the need for racial justice than Downstate's University Hospital of Brooklyn, Kowal noted, because it serves a very poor and heavily immigrant community of color in the borough, and yet has received no state funding for the last five years.
"I can't think of a better place to be, because the battle for equity, diversity and justice is here at Downstate," Kowal said.
Kowal also referenced the resolution passed by the UUP Executive Board in the summer of 2020, in which the union affirmed its commitment to fighting racial injustice following the death of George Floyd, a Black man killed in Minneapolis in May 2020 while in the custody of a white police officer.
"Of all the things that I have done while I've been president of UUP, it is this resolution of which I am the proudest," Kowal said. Read the resolution HERE.
The Diversity, Equity and Inclusion Committee will host two other events this month: A Feb. 15 panel discussion on the safety and effectiveness of the COVID-19 vaccines and why people of color should get vaccinated; and a Feb. 22 discussion on racial injustice affects the health, environment and economy in communities of color.
Click HERE to register for the Feb. 15 panel discussion.
ClickHERE to register for the Feb. 22 panel discussion.
Registration information for those events will be announced soon.