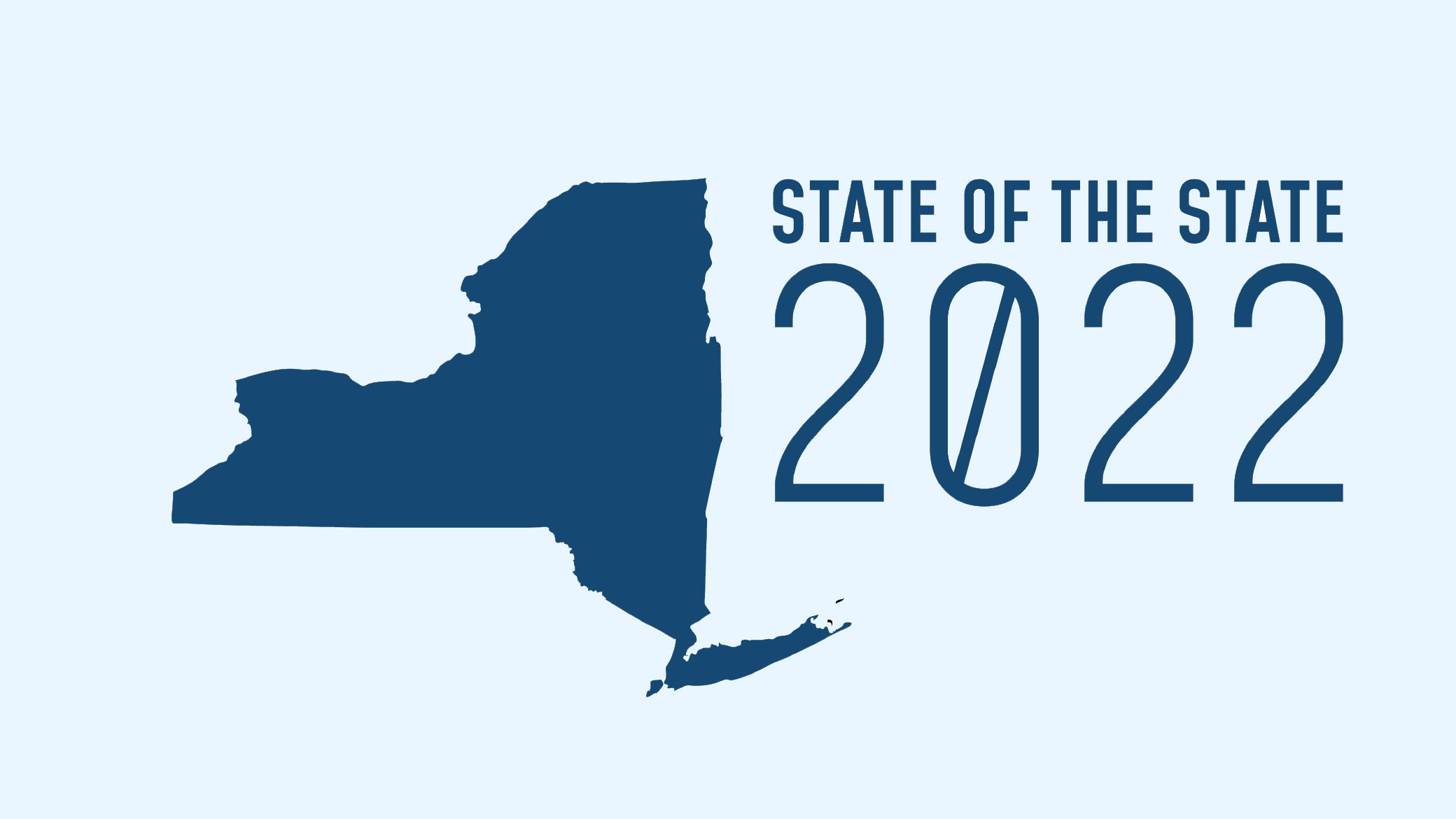 UUP President Fred Kowal applauded Gov. Kathy Hochul for her support of SUNY's campuses and public teaching hospitals in her Jan. 5 State of the State Address and said UUP is ready to work with her to make her initiatives reality.
Kowal responded positively to Hochul's tone and words in a Jan. 5 press statement , noting that "… we have a governor who recognizes the value of public higher education to our students, our patients and the citizens of New York state … we welcome the governor's agenda and are eager to work with her to break the pattern of 11 years of underfunding for SUNY."
"From recruiting and retaining diverse full-time faculty and staff to making SUNY a 'nation-leading public higher education system,' to setting up childcare centers on SUNY campuses, the governor has truly made public higher education in New York state a priority for the first time in decades," Kowal said.
The list of programs and plans that the governor announced in her straightforward, hour-long speech is extensive, but they boil down to two key areas that she plans to correct: shortages of funding; and shortages of people, including medical staff, under-enrollment of students, and a steadily eroding number of full-time faculty members at SUNY.
"Our health care workers showed up," the governor said. "They're not only physically exhausted; they're emotionally exhausted. We simply do not have enough health care workers in our hospitals."
KEEPING, EXPANDING HEALTH CARE WORKFORCE
She plans to address the urgent shortage of health care workers with a slew of financial incentives to retain the workers already employed in New York, and to train thousands of desperately needed new doctors, nurses, respiratory therapists and other health care staff in a profession that has been racked by early retirements and resignations as a result of the coronavirus pandemic. And she plans to address the financial straits of the SUNY campuses by making it easier for students to pay for college and to stay in college.
UUP has advocated for such steps for years, and it has watched with frustration as the SUNY system has struggled with severe underfunding for more than a decade. Although some programs have made gains, overall, the SUNY four-year campuses and the SUNY hospitals have been reeling in recent years as faculty, programs and medical supplies have all been cut back, even in the face of growing demands.
A NEW SIGNAL OF HOPE
But the governor sounded her support for higher education when she invoked her family's immigrant roots, her grandparents' eventual settlement in Buffalo, and the college degree that her father earned at night—which set him on a path toward middle-class success.
"If he had not taken that leap and invested in himself by broadening his horizons, I would be living a very different life today," Hochul said. "My whole family would be."
A State of the State Address typically lays out bold ideas; the details and financial fine print will come in the governor's executive budget proposal, which she is expected to release soon. Kowal said UUP continue to strongly advocate for its New York HEALS legislative agenda; some of the governor's initiatives are part of NY HEALS.
A LONG LIST OF GOOD IDEAS
Some of the highlights from the governor's speech that pertain to SUNY and the state's health care workers include:
A plan to increase the health care workforce by 20% in the next five years;
A $10 billion investment in the health care industry in the state, some of which will go toward individual $3,000 retention bonuses to health care professionals;
Pipeline programs with financial assistance to attract talented students into health care professions—an idea based on a plan proposed by UUP, which the SUNY system started last year, and which the governor now plans to expand;
Extending the Tuition Assistance Program to part-time SUNY students;
Establishing child care centers on SUNY campuses;
Hiring more full-time faculty;
A major investment in the state's response to climate change, which could have potential for the development of higher education programs in clean energy fields, and could draw on the expertise, research capabilities and public-private partnerships at SUNY campuses.
Watch the UUP website and The Voice and The Echo for more details about the governor's proposals, and UUP's advocacy for SUNY.